The Complete Stand Up Comedy Class
Learn everything you need to know in order to write, perform and market yourself as a stand up comedian.
Enroll now
ABOUT THE INSTRUCTOR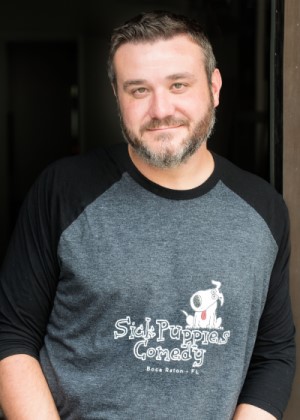 Founder and Director Casey Casperson graduated from the University of Evansville with a BS in Theater Mangement in 2001. He attended with Rami Malek (Mr. Robot), Lennon Parham (UCB, Playing House, The House, Parks N Rec), Kelly Giddish (SVU), Nathan Darrow (House of Cards, Gotham, Billions), Rutina Wesley (Tru Blood, Queen Sugar). Casperson and Jack McBrayer share the same degree as he graduated UE in 1993.
He has performed stand up comedy, improv, live theater and on screen since 1997. He has worked with Larry the Cable Guy, Kid of Kid and Play, Pauly Shore, Mark Curry, Mike Armstrong, Bill Bellamy, Kevin Meany and David Razowsky.
In 2001, Casperson studied under Gerald Owens of Laughing Gas and has since learned from Tara Defrancisco and Rance Rizutto of iO (formerly Improv Olympic) under the guidance of Charn Halpern (Truth in Comedy, Owner of iO), Susan Messing (TED Talk, Messing with a Friend), TJ and Dave, Joe Bill, Will Luera, Improv Boston and David Razowsky (Second City, iO).
Casperson also works with corporations and hosts coaching workshops for corporate clients and applying improv skills to business. Autonation, Wells Fargo, PNC, Northwestern Mutual, Simon Properties, Office Depot, South East Toyota, Chase, Loan Depot, Burger King, Forthright, Citrix, Pizza Hut, Complyright, couples resorts, NBC Comcast, Kyle Plumbing and others.
As an improviser, he has been a cast member of Laughing Gas and Sick Puppies Comedy, but has performed as a guest at many improv theaters across the country.
In 2012, Casey founded Sick Puppies Comedy which mostly comprised of former Laughing Gas members after Laughing Gas closed it's doors earlier that year. Today, Sick Puppies Comedy has over 30 cast members, 300 student alumni and 60+ active students spread over 5 levels of improv classes. The company performs at least 8 shows a month with 6 house teams.
Sick Puppies has performed at UCB during the Del Close Marathon in 2016 and 2017, The Sarasota Improv Festival by invite since 2013, The Tampa Improv Festival in 2014-2016, The Miami Improv Festival from 2015-2017, the Palm Beach Improv Festival from 2016-2017 and the Chicago Musical Improv Festival at iO in 2017.
Initially started as a hobby, Sick Puppies quickly grew into becoming the leader in improv comedy in South Florida. With 30 cast members, 60 active students, six active classes and over 100 shows in 2017, Sick Puppies Comedy is one of South Florida's favorite comedy destinations. Don't believe us? Check us out on YELP or Trip Advisor.
ABOUT THE CLASSES
In this incredibly easy and manageable series of short classes, you'll learn everything you need to write jokes and perform stand up comedy. There is no "fluff". There's no reason to overpay for other classes just because a famous person is attached to it. This class is designed to help you develop your first 5 minutes on stage in a sustainable way.
This is unlike any other stand up class you will take because it breaks every aspect of it down piece by piece. There's no "celebrity sizzle" that just has a person talk about themselves. We are going to give you 10 times the information any other program out there will because we use the system ourselves at Sick Puppies Comedy and sustain a regular show and fan base with excellent reviews. If you are really serious about finding out about every aspect of stand up comedy and what it takes, register for this class.
Once you master your 5 minutes, you can re-visit the class as many times as you like for as long as you like to refresh yourself and help you develop new ideas and material. Unlike many classes that claim to be "free", there are no additional classes that you need to take. If you watch the tutorials and do the work, you will be on stage confidently performing stand up comedy.
We constantly update our curriculum as the industry changes. We are active, relevant comedians on stage and making a living at this. Most stand up programs force you to go watch the stand up of the instructor teaching it because they are a celebrity. What's the point in that? Don't you already watch a bunch of stand Up? Find out what it takes to get funny and get funny consistently.
MISSION: Have a funny stand up comedy set that you can be proud of while feeling confident you can build on it.
What you get in the Introduction to Stand Up:
Orientation of what stand up comedy is and how shows are designed.
Joke Writing
In the Intermediate Stand Up Class
Idea Generation
Writing Styles
How to Map out the path of a joke, story or "bit"
Organizing your thoughts, bits and set
Editing
In the Combination of both Introduction and Intermediate you receive all of the above and the bonus material below:
How to avoid looking like an a**hole at an "Open Mic"
Writing Exercises and recommendations that guarantee success
Marketing Yourself
Stand Up Comedy is extremely difficult to get started on your own. You can read in most forums that a stand up comedian isn't going to do well in their first year. What they won't tell you is that if you get some help and structure you can be up on stage today. You can get laughs today.
Sometimes you don't know where to go or how to get stage time, but you'll learn how. You'll learn how to build relationships, you'll know who to talk to and most importantly, you'll learn how to find yourself on stage when you start to get good.
The truth is that Stand Up Comedy, joke writing, structure and delivery are not that difficult as long as someone is showing you how to do it. It's like riding a bike, hitting a baseball or learning a new language. Why is it that people hire coaches for sports, but not for writing? Why are we so quick to read books on health and diet and think that we can take on an artistic skill without any help?
This course takes 20 years of experience and neatly tucks it into six all inclusive sections for you to chew on. It's all right there. And if it's not everything you wanted it to be, it's refundable. We don't want to hold your money hostage if you don't think you see the value.
EXPECTATIONS: You should expect to be able to have a 5 minute set written today! You can get through all of sections today if you wanted to, but most people take their time and do the work over the course of a few weeks. It's completely up to you! It's all there waiting for you.